OnlyFans

Wish List

Recent Posts
Reviews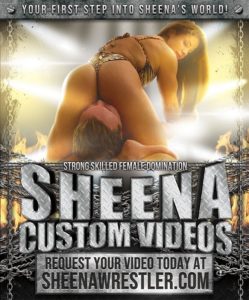 IF YOU GUYS ARE LOOKING TO GET YOUR WIMPY ASS KICKED BY THE TOUGHEST GIRL YOU EVER MET, THEN YOU ARE ON THE RIGHT PLACE. ALL IT TAKES IS AN EMAIL TO BOOK A SESSION WITH ME. AND THEN THE MAYHEM WILL BEGIN. 
I'm an expert at it. I was always teaching the boys painful lessons about who's the weaker sex in school.
And what now ? Ha-ha well nothing changes, I just grew up stronger, buffer and tougher.
With 20 years of intensive judo training I am stronger than I have never been in my life. And a hell of a lot stronger than any woman you've ever met, fanboy schmo!
How strong? In 2020 my gym trainer has me doing leg press machine squats of over 900 lbs/408 kgs! I can give you a lift and carry while you are still in your car! Now imagine those smooth, firm, thick thighs wrapped around you. Scary, right?
I am one uniquely skilled, powerful lady. If you ask me nicely I can take care of your body like an ass kicking Terminator. Since you are polite, I am probably going to break only one of your arms. But you can choose which one ? .
So here are my rules: FIRST OF ALL, I am not an hooker so don't ask me for sex, happy endings, etc... otherwise I am going to kick the ever-loving shit out of you!
Second, respect me and I am going to give you the hottest, hardest, best dream-come-true session of your life. I always include new elements and surprises for you guys. You are never going to get bored, believe me. Those comments in the reviews section aren't kidding. I really am that good.
...*Whatever roles we play in our mixed wrestling sessions, each of us will treat the other with courtesy.*...
We are a good match. You guys like to get your ass kicked and I love to do that. Isn't it a beautiful world? Now quit wasting my time and send me that email!
Shopping Cart
Newsletter
Subscribe to my newsletter to receive the latest news about updates on my website, my travel schedule and much more.
Tweets