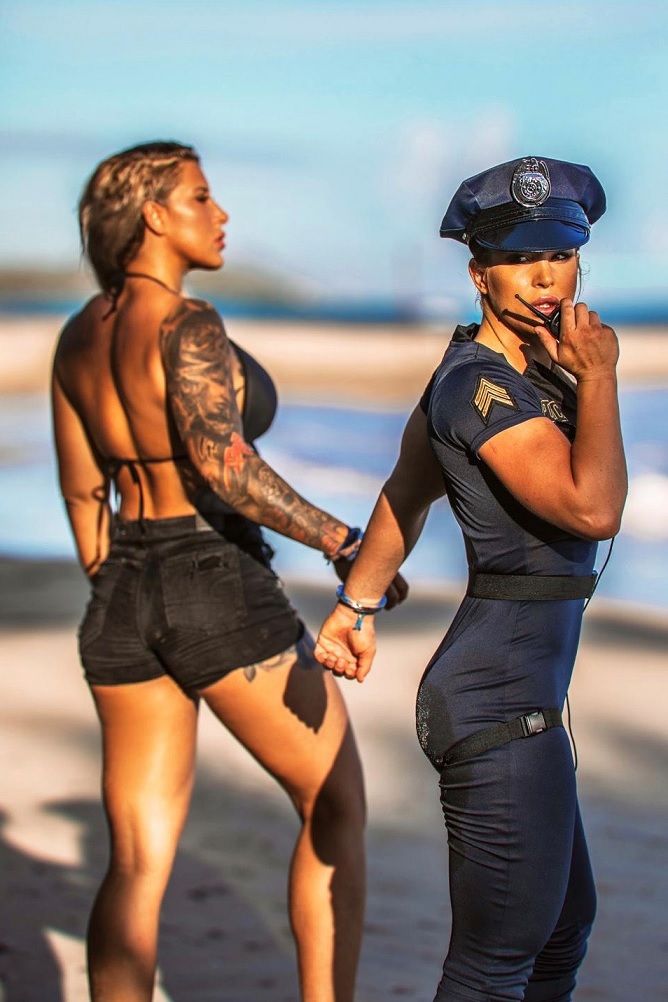 COMING SOON: Another amazing tour filled with new friendships, flexes, tap outs, scissors, and now, high-quality photo / video productions.
From Feb. 9 - 16, I begin my first invasion and conquest of Dubai, one of the world's most beautiful and scenic locations.
This will be one of my last trips as I prepare intensely to compete in the Arnold classic fitness championship. I am in the best shape of my life, even more powerful than before. Rep after rep, I am in Beast Mode, building thicker, stronger and more defined muscles.
I will be driving my session slaves to the point of madness.
But I am offering more. To capture my amazing genetics at the physical peak, I will give all my fans the chance to commission custom photo sets and mini-movies following your own concept.
Don't you want your personal video to capture Sheena in her greatest form ever?
Even better, I am accompanied by my dear friend the gorgeous Warrior Amazon and a famous European glamour photographer to shoot everything at the highest level.
Great framing, perfect lighting, brilliant visuals produced to a whole new standard. And customized to your wishes at sessiongirlsheena@gmail.com.
Want to see this strong, aggressive female powerhouse pumping up and putting down a frightened macho man?
Shall I wrestle through some very dangerous holds and positions with the awesome Warrior? Perhaps double-team with her against a helpless victim?
Would you enjoy seeing my mighty she-muscles do impossible strength moves?
Or perform my sensual, thrilling gym workout up close and personal, just for you?
Want me to inflict mayhem in a frightening, savage mixed martial arts match?
Should I pose outdoors in a tiny bikini with Warrior like a couple of Muscle Beach bitches?
I will fill your custom video / photo request to fit your fantasy. Please, nothing offensive. But if you find a deep thrill in female strength, skill and dominance, your fondest dreams are about to come true.
Or kinky nightmares haha.
If you are in Dubai and want to meet us in real life, visit sessiongirlsheena@gmail.com to sign up for a session but don't forget, there is no guarantee you are gonna survive it.
So why don't you book your custom clips and photos before? Just in case.
Send your requests to sessiongirlsheena@gmail.com. Once again, I will bring your dreams to reality. Isn't this a great time to be alive?